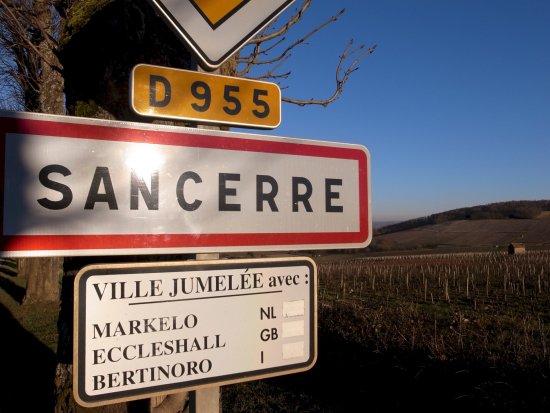 Reminder
Arrivals are always on Saturday if you will be staying in one of our accommodations (see note below).
"Which airport is closest?"
Orly airport. Flights from the UK land in Orly, but most international flights coming from outside of Europe will land in Charles de Gaulle (CDG).
By car
Our address is 1, place de la Panneterie, Sancerre 18300, France. You can find us easily on Directions from Paris (Charles de Gaulle airport) via car on Google Maps.
From Paris, or from ORLY AIRPORT, take the A6 "autoroute" (express motorway) south to the A77 autoroute direction "Nevers". Exit at "Sortie 24". Follow the signs for Sancerre. Cross the bridge over the Loire River. Sancerre is the town on top of the hill in front of you. Continue following the signs for Sancerre. At the roundabout about halfway up the hill you will see a sign for "Coeur Historique" and/or "Hotel de Ville". Follow these signs. The road leads directly to Coeur de France Ecole de Langues. There is parking on all 4 sides of the building.
By Bus
Flixbus departs every Saturday from Paris Bercy train station for Cosne Cours sur Loire ("Cosne"). There is usually a departure at 15:15 (3:15 PM) which arrives in Cosne Cours sur Loire at 17:40 (5:40 PM). We can reserve a taxi to bring you from there to the school.
By train
Train number 5909 departs Saturdays from Paris Bercy (OR possibly Gare de Lyon) at 14:16 (2:16 PM) and arriving in Cosne-sur-Loire ("COSNE") at 15:59 (3:59 PM). DO NOT GO TO TRACY-SANCERRE STATION. Tracy-Sancerre is a very small station with infrequent train service (if the train is running late it may simply not stop at the station! And if it does, there is likely no taxi there.). PLEASE NOTE: The Paris departure station varies and may change at short notice. The train will leave either from Paris Bercy or from Gare de Lyon. Even if you have purchased your ticket in advance, it is important that you check the departure station (Bercy or Gare de Lyon) several days before your departure. You can do this on the SNCF website.
How to get to Paris Bercy and Gare de Lyon stations
There are several ways of getting from CDG airport to Paris, including light rail (least recommended), taxi (about 50 euros, fastest and most reliable), Air France shuttle bus (google "Air France shuttle bus from CDG" for details) and private shuttles (try googling "private shuttles from Paris airports"). If you take the Air France shuttle it will take you to Gare de Lyon. From there to Paris Bercy station you can take a taxi (5 minutes), walk (10 minutes or more with bags), or metro (1 stop).
We recommend simply taking a taxi directly to the Paris Bercy train station.
Taxi from Cosne-sur-Loire train station or the bus stop to Coeur de France school in Sancerre costs about 40 euros (less if shared with other students). We recommend having exact change to pay the driver. If you would like us to arrange your transportation from Cosne train station to the school in Sancerre, please let us know as far in advance as possible (ideally when you confirm your registration).
Note: There is a shuttle bus operated by the train company that goes to Sancerre. It is inexpensive but it is also unreliable…. If you wish to save a little money and take your chances, just look for a bus in front of the train station and cross your fingers! If you are staying in our accommodation, have heavy bags and are a little tired from your journey and want to be sure you get to your accommodation with no hassles, we recommend just asking us to arrange your transfer from Cosne station up to the school in Sancerre.
Departing Sancerre for Paris by train
Accommodation departure is on a Saturday (no matter how many weeks you stay). Check out is about 8:30 am. We can arrange for your transfer (about 20 minute taxi ride) back to the Cosne sur Loire station. Most students choose train #5910 departing Cosne sur Loire at 11:04 am and arriving in Paris Bercy station at 12:49 pm — just in time for lunch!
For train schedules to Cosne and to reserve a ticket, please visit the French national railroad website: Voyages-sncf.com . If you live in USA or Canada, try Rail Europe (MUCH EASIER to navigate).
IMPORTANT
IF YOU HAVE ACCOMMODATIONS WITH COEUR DE FRANCE YOU SHOULD ARRIVE ON SATURDAY.
Classes are Monday (unless a national holiday) through Friday and accommodations are Saturday to Saturday. Regular check in time is between 4:00 PM and 6:00 PM on Saturday; check out is by 8:30 AM the Saturday of your departure unless other arrangements have been made with CDF in advance. The school is closed from Saturday 6:00 PM until Monday morning so staff is unavailable to check you in if you arrive AFTER 6:00 PM on Saturday. We urge you to contact us well in advance to set an appointment for your check in between 4:00 PM and 6:00 PM on Saturday.
If you need more flexibility
Late planes and trains, transport strikes -- traveling is always a challenge so Coeur de France offers our optional "Late Arrival -- Travel Disruption Insurance".
This optional late arrival - travel disruption insurance permits arrival until 9:00 pm on Saturday (or Sunday until 6:00 pm, if you prefer).
Your contact person is just a phone call away and can assist you with issues you may encounter during your travels. They will also meet you at the school to check you in. The cost of this service is 50 euros, payable in cash directly to your contact person for their service.
Better safe than sorry!
If you would like to take advantage of this insurance, please let us know now, and we will email you the short form to complete. Please note that in order to process the request, we require it to be submitted at least 3 weeks prior to arrival.
Coeur de France strongly recommends this insurance to everyone.
Travel wisely!
Whether you are coming from far away, traveling with children or simply want to avoid unneeded stress, the Late Arrival Guarantee provides you with the perfect start to your Coeur de France experience!